Tempting Entertainment
Adventurous, Tempting, Sexy, and Engaging Events at
"The Playground For Grown-Ups"
From the moment you arrive at Temptation Miches Resort in the Dominican Republic, you will feel your temperature rise. Our cast will take you on a provocative journey of mind-blowing experiences, full of sugar & spice and everything nice. Little by little the exhilarating and intoxicating atmosphere pushes the boundaries and fulfills your expectations of an adult-oriented getaway. Temptation Miches Resort caters to the traveler who is looking for something different. Someone who is seeking a vacation full of adventure and thrills.
Throughout the day you can explore with your wild side as you enjoy our poolside playful experiences hosted by hot headliners and sexy resident DJ's that will sweep you off your feet and get you moving to the beat. Discover the sexy vibe throughout the entire property. As the sun goes down and the day begins to fade, immerse yourself into the world of the unknown. Embrace the excitement as you discover the secret nights that we have prepared especially for you.
Temptations has built-in entertainment and one of the largest hotel night clubs in Miches. Every night the club is roaring with fun contests, music, dancing, and ample ways to meet many of the other hotel guest, all while enjoying the perfectly crafted fine cocktail!
Red Hot Pool Parties happen everyday at Temptations Miches Resort. If you are not into the loud and constant vibe of a Spring Break style pool party, we have a seperate location that is suited for you. Leave the Spring Break atmosphere and park yourself at the quiet pool!
---
Theme Nights
Sunday
Burning Land - For those who are fans of the flames, our burning land theme reigns. Find your fire while choosing your attire as it will add to our sexy atmosphere. Our Playmakers will provide the heat with a party that can't be beat.

Dress code: sexy, original creation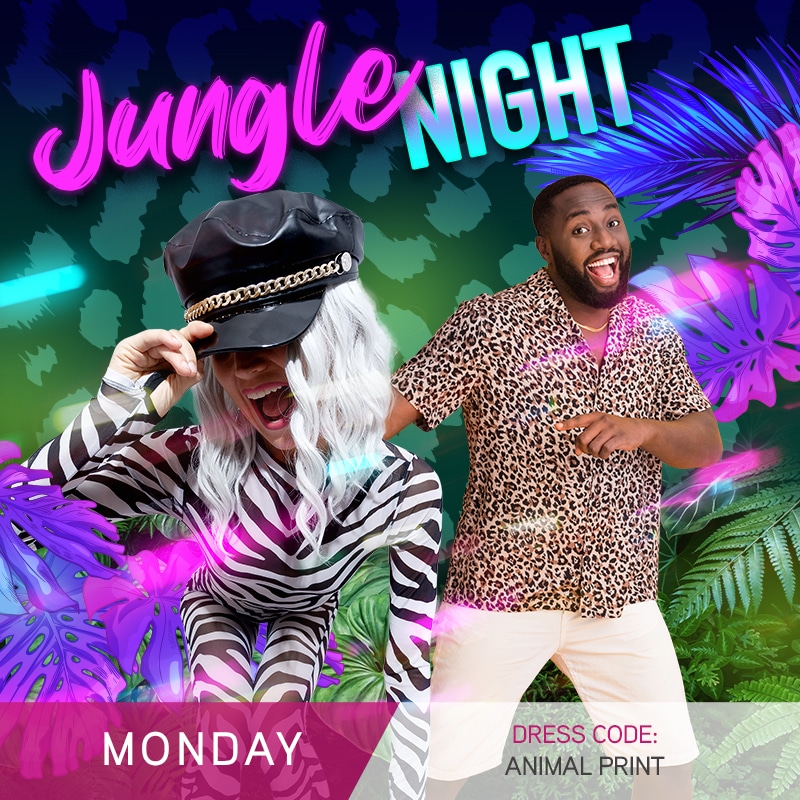 Monday
Jungle Night - It is a jungle out there, so be prepared to take a ride on the wild side during a sexy safari adventure full of exciting expectations. If it is party animals you seek, you'll have a front row seat to play with them while running free.

Dress code: animal print

Tuesday
Party Circus - Get ready for the greatest show on earth, with the sexiest circus spectacular ever staged. Tonight is your chance to step into the ring like a true master and show your fellow temptationers what they came here after.

Dress code: sexy circus attire

Wednesday
Lace Masks & Heels - Heads will turn as you walk through the doors dressed to kill wearing that sexy lingerie of yours. Tonight, imagination is inspiration for true Temptation. Get ready to embrace what lies beneath the lace. Want to Play?

Dress Code: Women: lingerie & mask | Men: casual attire & mask

Thursday
Glittery Fun - Because you were created to sparkle and born to shine, it is Glitter Bomb party time! We are all diamonds chasing light, so, twinkle, twinkle, sexy star; tonight, everyone will see how incredibly dazzling you are.

Dress code: glitter & shine

Friday
Dominican Way to Play - Tonight, we are going to play the Dominican way with a party so hot you will never want it to stop. Grab your entourage and join us for a cool Caribbean party second to none. Our Playmakers will provide an epic atmosphere while you provide the fun!

Dress code: sexy tropical attire


Saturday
Neon Wave - Get ready for a mesmerizing splash of neon and white you will not find on any other night. It is playtime in our colorful kingdom. The most incredible party in Miches is about to go down. Let's glow crazy!

Dress code: white & neon colors